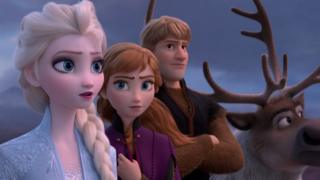 Six years on from the recent, Frozen 2 is quite right here. Movie critics have given their verdicts before its cinema open on 22 November.
Some had their chilly hearts thawed by the sequel, but others remained chilly about Anna and Elsa's most neatly-liked meander.
On the one hand, The Telegraph's Robbie Collin said it is a "beneficiant, charming" film that "hits the general legal notes".
On the an excessive amount of, Arrogance Incandescent's Richard Lawson diagnosed Disney with "a dire case of cynical sequelitis".
He wrote: "From my sorry grownup be aware, this sequel is utterly pointless, excluding in its responsibility to attend the wants of capital."
Frozen grew to change into a phenomenon in 2013, making $1.27bn (£986m) at world box offices and turning into essentially the most a success racy film ever.
'Conglomerate overlords'
Whereas admitting there used to be "sweetness" in the film, Lawson said the administrators and writers "make a selection for a new mythos to look at the recent's, but come up woefully instant".
He added: "In that striving to clarify a sequel, the Frozen crew is forced to maneuver bigger, grander, more existential, while easy holding things accessible to kids. That's a actually sophisticated balancing act, one Frozen 2 can't prepare."
Clearly, the first movie also spawned the hit song Let It Inch. Lawson said the sequel "is an excessive amount of hurrying to secure to what the conglomerate overlords for meander care most about: achieving a Let It Inch-esque moment of pop-ballad triumph, a legal clarion name of marketability".
He used to be now not impressed by the outcomes. "No longer a half-hour after seeing the movie, I couldn't name up a single melody."
Others picked out the song Into the Unknown as a hummable highlight, on the replacement hand. Robbie Colin printed: "I sung it to myself for the full train meander dwelling, fell asleep singing it, awoke singing it, and am essentially easy singing it legal now, while typing this."
His four-vital individual overview said that, on the general, Frozen 2 "tacks excitingly far from the Disney princess template" and has "an air of freshness" to it.
Empire magazine's Ben Travis also awarded four stars, saying the sequel "goes bigger, bolder, and more legend".
He wrote: "The put Frozen II does surpass its predecessor is in the jaw-losing animation – one moment bright water drawn from a plank of wood is near-photoreal. Somewhere else, the film is grand more radiant and prankish than the prosaic long-established."
'A mildly unhappy accountant'
There have been four more stars from the London Evening Connected outdated's critic Charlotte O'Sullivan, who said it "doesn't pork up upon the recent" but combines "Broadway razzmatazz" with a "restful weirdness".
She wrote: "Or now not it is laborious to carp, given the amount of technical invention, now not to current wit and emotion, stuffed into every position-share."
The Times' Kevin Maher dispensed legal two stars, saying the movie "consistently ticks containers and executes songs and position objects with the general verve of a mildly unhappy accountant talking you through his most neatly-liked spreadsheet".
The Guardian's Peter Bradshaw gave away three stars, while Veil Rant's Molly Freeman used to be marginally more beneficiant with 3.5.
"Or now not it is now not as cohesive a movie as Frozen used to be, that can also perhaps be down to the sequel never even making an strive to introduce a villain," she wrote.
"As another, Frozen 2 takes the possibility of forgoing the in vogue Disney movie story constructing for a more conventional vogue – and while it doesn't utterly work, an excessive amount of facets of the film are compelling sufficient to withhold viewers engaged."
Note us on Fb, or on Twitter @BBCNewsEnts. Whenever you happen to've got a story suggestion email leisure.info@bbc.co.uk.